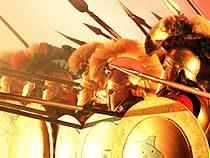 Sometimes I get so dizzy watching history repeat itself.
The

Syracuse

Campaign: Failed Opportunities, Failed Leadership

Authors: J. D. Dowdy; ARMY WAR COLL CARLISLE BARRACKS PA

Abstract: This campaign analysis examines the role of strategic leadership in the failure of the Athenians during the Peloponnesian War. The development of a successful strategy relies on a clear understanding of the objectives and includes an accurate assessment of one's resources and weaknesses and those of one's enemies. Ultimately, strategy must aspire to employ one's strength against an opponent's weaknesses, make use of the experiences of the past, and adjust to the changes of the prevailing conditions, both materially and psychological. Those involved in making strategy, be they statesman or military leaders, live in a world of incomplete information. They do not know how an adversary will act or react, nor do they understand completely the numerous factors that will affect one's strategic performance. To secure the desired strategic result from the strategy chosen requires leadership.

Leadership is the common thread that binds a nation, its resources, when it chooses war as its course of action. The Athenian adventure in Sicily is the most notable among many instances of strategic miscalculation, which led to her loss of empire. She possessed the power to negotiate from strength and shape the environment to her advantage. However, she chose a course of imperialistic conquest that in the end led to the destruction of her military forces. Athenian defeat can be attributed to a lack of leadership. The cost of this failure was the loss of her empire and the relegation to the dustbin of history.