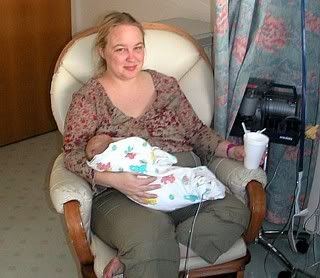 Moreena over at Healthcare Hollaback & The Wait and Wonder has sent out the request for positive hospital stories as they pertain to the folks who in their kindness have pulled our stays further from unbridled terror. And I was so pleased to find myself torn when trying to decide who to honor. Finally, I settled on the thought possibly posting more than once.
The following submission is but a snippet of a(n even) long(er and more) rambling post I wrote in January of 2006. In it I barely mention our midwife and the wonderful pediatrician she recommended. Were it not for this chain of caring professionals; however, Kajsa would have wasted away to a toxic bit of nothingness. They forever hold my grateful heart in their souls.
The true honoree of the post is a nurse, named LaDawn. And bear in mind that while she was, indeed, a real live person; she has come to represent to me an archetype of sorts – so often have I thought of her.
And now for the real post.
~~.~~.~~.~~.~~.~~.~~.~~.~~.~~~.~~

One of the things that Chris always loved best about me was my parenting style. So when we found out that we were to have a baby, we were elated. We signed up with Baby Diaper Service, took Bradley classes, and found the best midwife imaginable.
Kajsa was born at home on a warm late spring day. She was full term (although a bit small) and had all her fingers and toes. We figured the rest was the easy part. After all, I was an old pro. I'd always remembered the words of Maya Angelou, "Ain't no trouble when you're packin' for double."
Toni, our midwife, came by at day three to do the heel stick. I cried and cried to think of anyone hurting my baby. It all came back normal. Kajsa was a bit underweight. But, we figured all babies drop at first.
When Kajsa was still dropping at 2 weeks, Toni gave us the name of a very good pediatrician. Dr. Oriel is this neat little guy who reminds me of Peewee Herman with out the annoying laugh or off beat movie preferences. He had actually taught at Albert Einstein, and has a huge love of babies. We went to see him.
He began to talk to us about vaccination schedules. We told him that just was not gonna happen. While he was not exactly OK with this he agreed that it was our decision to make, and asked only that we read his information, as well as the literature upon which we had based our decision.
Dr. Oriel was also worried about Kajsa's weight and had me go to see a lactation specialist to make certain that I was nursing well and that she didn't have any problems with sucking. While we were at it, we began checking to see if she was allergic to my milk. This, I thought was the most absurd and insulting of notions I'd ever heard. Now I wish with all my heart that this had been the issue. I would have been quite put off, but I would have eventually gotten over it.
I was pumping around the clock and mixing my milk with formula at high caloric ratios to try to fatten her up. But she just kept dropping weight. We met Dr. Oriel at his office on the 4th of July for a weight check. Down, still. Then he met us there two days later on a Sunday. He was so befuddled by our little bird girl. So, he said that he'd really like to take some blood to rule out a few things. Gulping down the nausea, we said alright.
We then watched in horror as he tried desperately to get blood from both arms. Finding this to be extremely difficult, we went downstairs to the lab. The woman there was eventually able to get some blood from her scalp. The poor girl was just SO dehydrated.
We went over to some good friends' house that night for a visit and were just settling down to watch Lord of the Rings, when my phone rang. Dr. Oriel was on the line. Since he knew how little we valued Western/Allopathic medicine. He pulled no punches.
"Rowan, there's something wrong with Kajsa's kidneys. We need you to go to MaryBridge Children's Hospital. You have time to go home and pack some clothes for yourself. Do not go anywhere else. You are in direct admission. That means they know you are coming."
I hysterically went tearing into the other room where Chris was playing video games with his friends. I'm not sure that dolphins could have understood me as I tried to relay what I'd just been told. Chris took the phone and got directions to MaryBridge.
As we drove back to Auburn, I just kept wondering if this could all actually be real. I sobbed for the whole ride and just kept thinking that they must be horribly, horribly wrong. These things simply do not happen to me. I vacillated between disbelief and sheer terror. Chris said nothing and drove.
As I arrived at our house, I couldn't figure out what to pack. Should I take clothes for Kajsa? Would she wear them while we were there? How many diapers would we need? Would there be a place to wash them? This is how much I knew about hospitals. I grabbed about 500 ounces of my milk from the freezer as we ran out the door.
We arrived safely (somehow) and were admitted to the seventh floor. Chris and I filled out what seemed like sooo much paperwork. (I can now do this in my sleep.) Chris stayed in the room as the IV specialists came up to draw more blood. I have had an intense fear of needles; so a wonderful nurse named, LaDawn, took me to a soundproofed treatment room to figure out the unbelievably industrial looking breast pump.
While there, she talked to me about her son. He had some chronic illness. She and her husband had lived on an army base in Germany when he was diagnosed. Her experiences led her to change careers to become a pediatric nurse. This story would repeat itself over and over during our various hospital stays. The mommy nurses were always my favorites. They just get it.
This is who can provide emotional support like no one else. It is from nurses whose children have had chronic illnesses that I learned how to be an unbelievable advocate for Kajsa. They are a resource to be valued, and never overlooked.

They are, indeed, the key to hospital sanity.