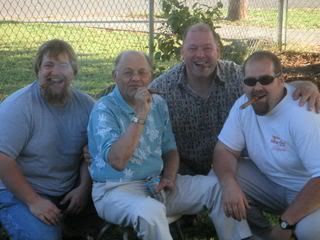 June 21st marks a very important anniversary in my family. Three years ago my father-in-law, Paul decided to discontinue dialysis therapy. This may seem to be a horrific thought to some of you out there. But for him it was a very courageous and well thought out decision.
You see, Paul had developed type one diabetes at 11 or 12 years old and lived with it for 48 years. He was originally told that he probably wouldn't live to be thirty. He and my mother in law, Lynne, had three rowdy boys: Steve, Erick & Chris; followed by a very much alive daughter, Heather. Paul also got to see all of his boys married, as well as looking into the eyes of four beautiful granddaughters. So he'd seen so much more than he ever expected to.
Now during this time his health continued to decline. By the time that I met Paul, he was already sporting two prosthetic legs and soon thereafter lost three of his fingers. I saw him go in and out of the hospital and rehabilitation centers more times than I remember. Through all of this, he usually kept both his senses of wonder and humor. It often made me feel awed, myself when I was around him. His love of life tended to be contagious. Now I'm not saying that every day was fluffy clouds and flying unicorns. But looking back, his joy of life and thirst for divinity, are what I remember most about him.
When he went back into the hospital for the last time, he'd lost another dialysis catheter site and they were talking about placing a port in his last whole arm. It actually didn't take Paul long to decide that this wouldn't do. I cannot possibly imagine the conversation that he must have had with Lynne. To try to do so might just break my heart. We got the call later that day to tell Chris that his father had decided to allow himself to die with dignity. How could he not – it was how he'd lived his life. We made some phone calls and headed off to the hospital.
Paul couldn't see very well by then, but was so overjoyed to have us present. There were so many photo albums to pore over and talk about. I left for a while as I knew that relatives would be pouring in and I wanted to clean the house. This also gave the boys some time alone with their dad.
Calls were quickly made to Hospice and Paul was brought home to receive his constant flow of visitors. His last meal was delicious biscuits and gravy ala my brother-in-law, Erick (who had raced back from California) and on father's day he had the tiniest sip of scotch with his children.
It took 3 days for Paul's body to shut down and he left us on summer solstice – the longest day of the year. He breathed his last breath in the most, well, beautiful way imaginable – with his family all standing round holding him and telling him that they loved him. And we all meant it so incredibly much. I think that everyone who ever knew him is a better person for it.
It has been a few years since that night, but I still think about Paul every day. Whether I'm playing with his grand-daughter and she looks at me just so or I find myself gawking at the beauty of life with its full spectrum of possibilities, he'll just pop into my head. As the anniversary of his passing has drawn nearer I've felt an increasing need to express my love and admiration for Paul – husband, father, son, brother, uncle, seeker, teacher, adventurer, inspiration…