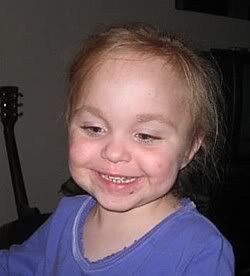 Getting on an elevator the other day, Kajsa turned to me and proclaimed that she loved riding in the alligator. I had to explain that while elevators can be mighty exhilarating, they should never be confused with aligators - and that riding in an alligator would most assuredly, um, bite.
This morning's conversation
Kajsa: Knock Knock!

Me: Who's there?

Kajsa: You say Mama.

Me: Huh?
And finally, I win the prize for horriblest mom ever. Yep, horriblest.
Stopping at the pizza joint on our way home from Phoenix the other day, Kajsa and I immediately ran for the bathroom. Kajsa dawdled on the toilet for several minutes as I stood around doing the mommy martyr version of the pee-pee dance. Once it was finally my turn I settled myself just in time to witness one of childhood's many failed experiments.

You see, Kajsa has been having a fabulous time lately swinging from the bars on the playground. So...seeing an available bar against the wall, she grabbed a hold and lifted her legs, eager for the freedom of the swing. As you might imagine; with her feet behind her, and her hands otherwise occupied, there was nothing to keep her face from smacking loudly against the wall.


And what makes me a bad mom? Well, I laughed. I couldn't help it. I have a secret love of slapstick. And that was better than anything you'd find on an old Three's Company re-run.

Yep, horriblest mommy ever.