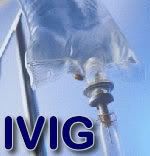 What's more fun than a barrel of monkeys?
Parvovirus B19, of course. Actually, no. I take that back. Parvo absolutely sucks. In fact, it worked really hard to destroy Kajsa about 6 months ago. So she became well acquainted with our old friend IVIG (intravenous immunoglobulin).
And it worked wonders. At one time she had over ten billion DNA copies running around in the blood. But, with a little help from IVIG, she was able to recover. And we've been monitoring Kajsa's Parvo levels since that time. For the most part we have been relieved to see a steady decline.
As of last month they were down to 100 (or fewer) copies. In fact, we'd started to joke about the ridiculously, unbelievably high levels she'd once shown. As you can imagine, this month I expected to hear that they were gone completely.
So imagine my surprise when Mary called yesterday to inform me that Kajsa's Parvo levels are once again over ten billion.
It turns out that IVIG is incredibly helpful for 2 weeks to 3 months. After that, honey, you're on your own. So when Dr. Morgenstern called the infectious disease docs, their recommendation was quarterly IVIG treatments. Yippee.
The good news is that we'll be able to do this outpatient. They have a little room with a recliner. (Gads, am I ever glad I took up knitting.) So we'll go sit there for four or five hours while she has her infusion. I'll try to read and knit. She'll try to climb out of the chair. It should be fun.
Oh, and for a couple of things completely off topic:
I got the job at the salon & day spa. I'm supposed to begin next Tuesday. Woohoo! I'm VERY excited to start working again.

My initial introduction to the rest of the employees was at a staff meeting. I was incredibly nervous. And they were all so young, pretty and stylish. I seriously felt like the fat girl with toilet paper on her shoe. So I just sat there and smiled whenever anyone looked my way.

Then, when I ran into the other LMT the next day, I was told that they all wanted to know why I was smiling so much. (Great -- fat, toilet paper dragin', and mentally challenged.) Thankfully, she told them that I was probably really nervous. A whoppin' big thanks goes out to Wendy, my newest ally.
... ... ...

And finally, I'm learning to knit socks…on circular needles. I feel like a total klutz, but have been told that everyone feels that way, at first. So I'll just keep knitting along.

Seems like a pretty good way to get to tomorrow to me.