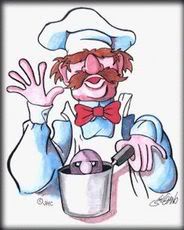 One of the saddest things about my computer crashing was that it happened quickly enough that I was unable to save my MasterCook recipes. Now, those of you who know me at all, know I love to cook food that makes people happy. Even if I never got to sit down and eat it myself, just watching someone else's eyes light up as they elicit a small moan of gastronomic pleasure makes my heart go thump. And yes, before you think I'm some kind of anorexic saint, I do also love to eat. (Any picture you find of me can attest to that fact.)
Yep, I'd collected some true pleasures. But I didn't take the time to back up the cookbook properly, 'cause I'm always on the hunt for the next wowing delight. SO now I ask for your help. I NEEEED some fantastic vegetarian recipes. And this does not include ingredients that I won't be able to find. Please remember that I live in a town with a population of 500 and have to drive 45 minutes to get to the big town of say 30,000. So it's just a little difficult for me to get agar agar flakes and hijiki.
On another note, I tried in vain to find a good recipe for vegetarian Swedish meatballs. Alas, the search was in vain. On RecipeZaar I found on that, at first glance, looked good. But the reviews declared it a bit too crumbly. My search must continue….
Speaking of RecipeZaar, does anyone use their professional level services? If so, do you find them worth it? I would like to avoid the panic of losing my much loved recipes in the future. So I'm actively looking for solutions.
But back to the post at hand…
I'm looking for casseroles, desserts, soups…all those good stick to your ribs, comfort foods that will be so satisfying as the weather begins to cool. You know; the tried and true recipes that you just keep coming back to.
So, how about it? What's your favorite recipe to share?
Here's one from me to start the ball rolling:
Curried Zucchini Soup
Serves 4
This recipe came to me from Chris' cousin Kristin last year when I had zucchini coming out of my ears. We loved it so much that it became a regular dish around the house. It is especially delicious when eaten with toasted pita wedges.
1 tablespoon vegetable oil
1 cup chopped yellow onions
1 teaspoon minced garlic
2 teaspoons curry powder
1/2 teaspoon salt
Pinch cayenne
2 pounds zucchini, trimmed and chopped
3 1/2 cups vegetable stock
1/2 cup heavy cream
Chopped cilantro, garnish
1. In a medium pot, heat the oil over medium-high heat.
2. Add the onions and garlic and cook, stirring, until soft, about 3 minutes. Add the curry powder, salt, and cayenne, stir, and cook until fragrant, about 30 seconds. Add the zucchini; reduce to medium heat, and cook, stirring occasionally, until soft, 5 to 6 minutes.
3. Add the stock and bring to a boil. Reduce the heat and simmer until the zucchini is very tender, about 20 minutes.
4. Remove from the heat.
5. With a hand-held immersion blender, or in batches in a food processor, puree the soup. Return to medium heat and stir in the cream. Simmer for 3 minutes. Adjust the seasoning, to taste.
6. Pour into a clean container and let cool slightly. Refrigerate until well chilled, 4 to 6 hours.
7. To serve, ladle into large cups, garnish with cilantro, and serve with hot pappadums or pita toast. This soup may be served hot or cold.