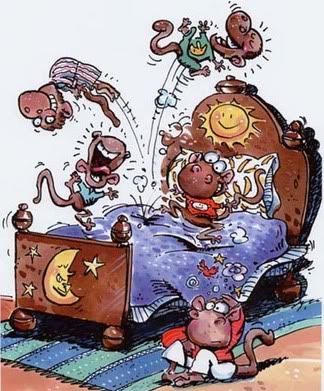 Yep, we're still / again (and again and again) in the hospital. We we're going to go back to the RMH (home away from home) today since nothing is growing in any of the numerous random fever related invasive tests they've done lately. But just as we were about to walk out the door I was informed that Kajsa needs another transfusion.
It's so odd how much the kidney regulates within the body. Even though red blood cells are produced in the long bones' marrows, the kidney is in essence the brains of the operation. And so far, the introductions, as it were, have not been made. I asked one of the Nephrologists if there were cases of them never jumpstarting this process. She informed me that while that didn't happen, it could take along time for her body to begin producing rbc's. So this might simply be the second in a string of transfusions.
The other side of this is that Kajsa has to have blood that has been exposed to relatively few viruses, and is therefore rare. So when they put in the order for blood for her this afternoon, the search was actually international. Fortunately, they located some O+ CMV within a couple of hours. So we should be able to leave late tonight to head over to RMH.
As for when we will be able to return home, no one knows. I never thought I'd miss that weird little town, and I guess I don't. But I do miss my husband, my garden, and the ability to eat off of a plate - rather than a Styrofoam container.
Kajsa's spirits are so much higher than mine. The hardest part of dealing with her, right now, is keeping her from jumping off the bed and onto her little head...concrete floors and all that, you know. I've now taught her a lovely new song about doctors and monkeys jumping on the bed. I should have known that this, like everything else would have a paradoxical effect. She now giggles manically as she hops, jumps, and does summersaults across the tiny hospital bed.

Crazy monkey.